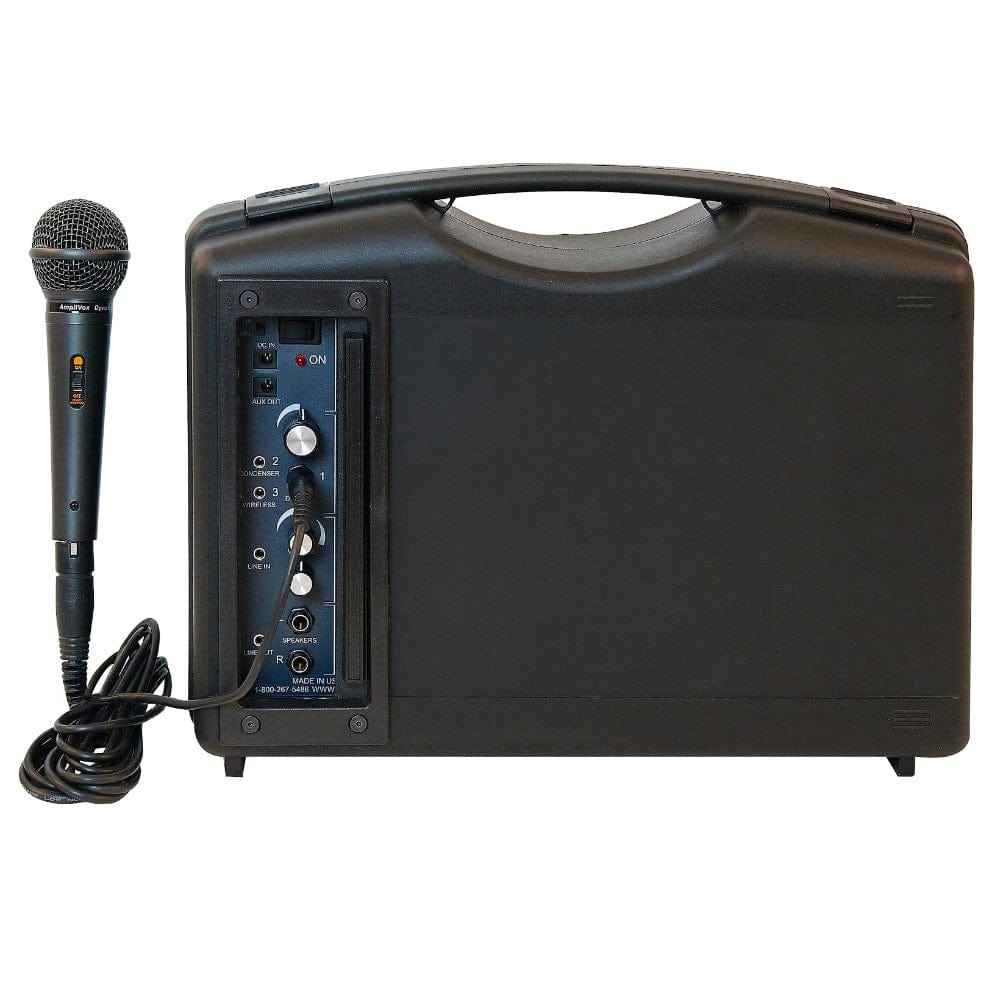 Amplivox Audio Portable Buddy S222A
Found a Better Price? Give Us a Call, And We'll Try To Match Any Authorized Dealer!
Have a Question or Want to Order? Call Us: 804-538-4844

Free Shipping On All Products. No Hidden Fees at Checkout
Description

Specifications

Shipping

Price Match
A complete presentation system built into a rugged, compact carrying case. Powerful 50 Watt multimedia stereo amp, reach up to 1,000 people outdoors or in rooms up to 10,000 square feet.

Stream audio wirelessly from your smart phone, tablet, or any other Android or iOS device.

A proven "Road Warrior", specially tooled and molded plastic briefcase-style enclosure for exceptional durability and portability. Travels and sets up so easily.

Dual wireless option, accomodate multiple presenters. By adding a second Wireless Mic Kit (sold separately) two presenters can be wireless simultaneously with the freedom to roam within a 300 ft. radius.

Powered by 10 D-cell batteries for up to 200 hours of talk time or choose optional rechargeable NiCad battery pack (requires S1460).
50 Watt multimedia stereo amplifier
Wired Handheld Mic
Built-in wireless audio technology, stream audio from Android and Apple iOS devices
Built-in 6" x 8" Jensen design speaker
Three microphone inputs (dynamic, condenser, wireless)
Line out - connect to other audio devices for enhanced playback or recording
Weatherproof and scuff-resistant molded black luggage-type plastic case holds up to abuse and protects amplifier.
Case contains sturdy foam shell for storing microphone and accessories
Easy to carry handle & over the shoulder strap
Runs up to 200 hours with 10 D-cell alkaline batteries (not included), or use the optional rechargeable AmpliVox S1465 NiCad battery pack with S1460 AC adapter/recharger
Audience Size: up to 1000 people
Product Dimensions: 11" H x 14" W x 5" D
Product Weight: 4 lbs. without batteries, 8 lbs. with batteries
Rated Power Output: 50 Dynamic Peak Watts
Frequency Response: 50 - 20K Hz
Speaker: (1) 6" x 8" Jensen design speaker
6 Year Limited Warranty