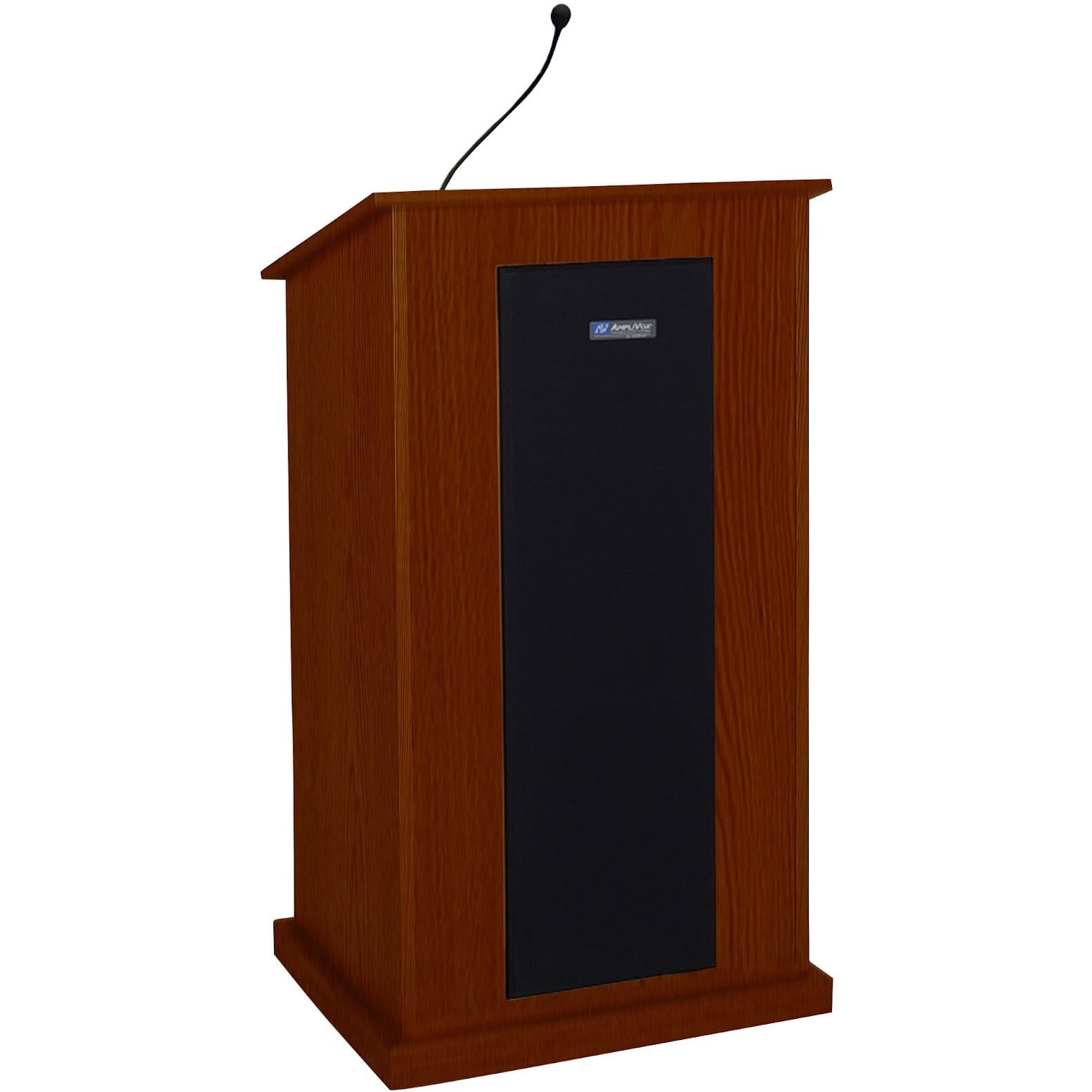 Amplivox Chancellor Sound Lectern SW470
Found a Better Price? Give Us a Call, And We'll Try To Match Any Authorized Dealer!
Have a Question or Want to Order? Call Us: 804-538-4844

Free Shipping On All Products. No Hidden Fees at Checkout
Description

Specifications

Shipping

Price Match
The Amplivox Chancellor Sound Lectern SW470 is one of the most functional lecterns on the market today.  It has a professional, exquisite look, helpful features, and a powerful sound system that can deliver words to the audience clearly.  
This portable lectern has a 21" gooseneck hot mic that can pick up sound from 20" away.  This allows the speaker to step back, and not be all up on the podium stand.  It also comes with a choice of three wireless mics to choose from.  This allows presentations to have two speakers at the same time.  One can speak from the lectern, and the other one from the wireless microphone provided. This portable lectern has 4 built in jensen design speakers that delivers clear, lifelike sound to the audience.These speakers can reach audiences up to 3250 people, and rooms up to 26,000 square feet.
Next, you have the spacious reading surface, which provides more than enough room for your computer and notes.  It has a book stopper to prevent items from falling down, and also possess integrated control panels.  If the reading surface isn't enough, this wooden podium stand comes with two large adjustable height shelves in the back, as well.  You can place items, such as bags and water bottles here.
The alluring, melamine surface will have your audience mesmerized to the speaker.  There's five wood colors to choose from: mahogany stained, natural oak, natural maple, walnut stain, and cherry stain.  This wooden podium with microphone has four hidden casters that allow transportation to be effortless.  Never worry about having to pick this lectern up.  
The Amplivox Chancellor Sound Lectern SW470 manual instructions come in the box, and it fits perfect in any large venue.  It comes with a six year warranty, and ships fully assembled. 
Overall dimensions: 45"H x 24"W x 20"D
Material: Solid Wood Veneer
5 wood stains to choose from: Mahogany stained, natural oak, natural maple, walnut stain, cherry stain
21" gooseneck hot mic that can pick up sound from 20" away.  Allows speaker to have space from the lectern
Choice of wireless mic: lapel and headset, handheld, or flesh tone over ear
Wireless mic option allows two speakers at the same time:  One behind lectern and one uses the wireless mic
4 built in Jensen design speakers that can permeate sound to audiences up to 3250 people and rooms up to 26,000 square feet
Built in bluetooth module allows you to wirelessly stream sound from any bluetooth capable device
A myriad of storage with two adjustable height shelves
Four hidden casters allows easy mobility from place to place
Ships fully assembled
Six year warranty