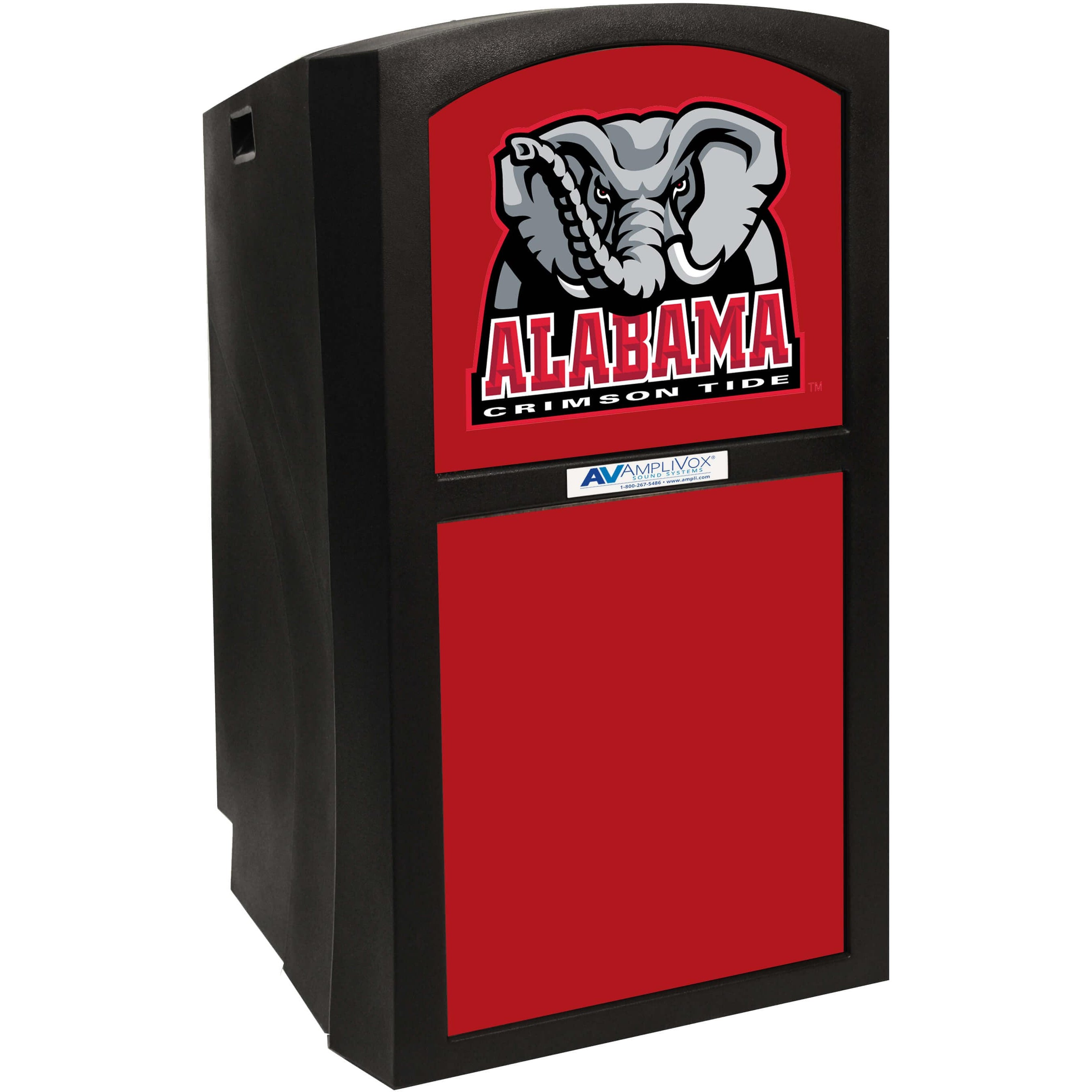 Amplivox Collegiate Multimedia Lectern SN3253
Found a Better Price? Give Us a Call, And We'll Try To Match Any Authorized Dealer!
Have a Question or Want to Order? Call Us: 804-538-4844

Free Shipping On All Products. No Hidden Fees at Checkout
Description

Specifications

Shipping

Price Match
Represent your school the right way with a colorful logo.
What looks better for your school?  A plain, old all black lectern, or a lectern with your school colors and mascot.  Ding, ding, ding, we have a winner.  Obviously the second.  Not only you, but your students will love it as well!  Imagine their smiling faces, as you speak behind this bad boy.
The SN3253 gives you the option to rep your school, and to really bring out that school pride that everyone should have.  Heavy duty casters for easy convenience.  Don't have to worry about doing too much lifting when you can just roll it wherever.  If you do have to carry it, that's no problem because the podium only weighs 48 pounds.  The reading surface is completely flat, and has a paper stop to keep your computer and notes in place.  The large shelf area is perfect for whatever things you may need while speaking on stage.  
Waterproof and Weatherproof
The SN3253 is made of durable hard shell plastic that's truly built to last.  So that means you can use it indoors or outdoors.  If you spill a little bit of water on it, no problem.  If it happens to get rained on a little bit, it will be fine.  That water's not hurting anything.  
2 heavy duty casters for easy mobility 
reading surface completely flat 
bookstopper to keep items on top in place
large shelf where you can place other items you may need while speaking
durable hard plastic material that's weather proof
Make the right choice for your school today, and hit the "add to cart", so we can get this to you fast!
Overall Dimensions: 47"H x 27"W x 26"D
Shelf size: 11"H x 19"W x 12"D
Product weight: 48 pounds
Proudly made in the USA