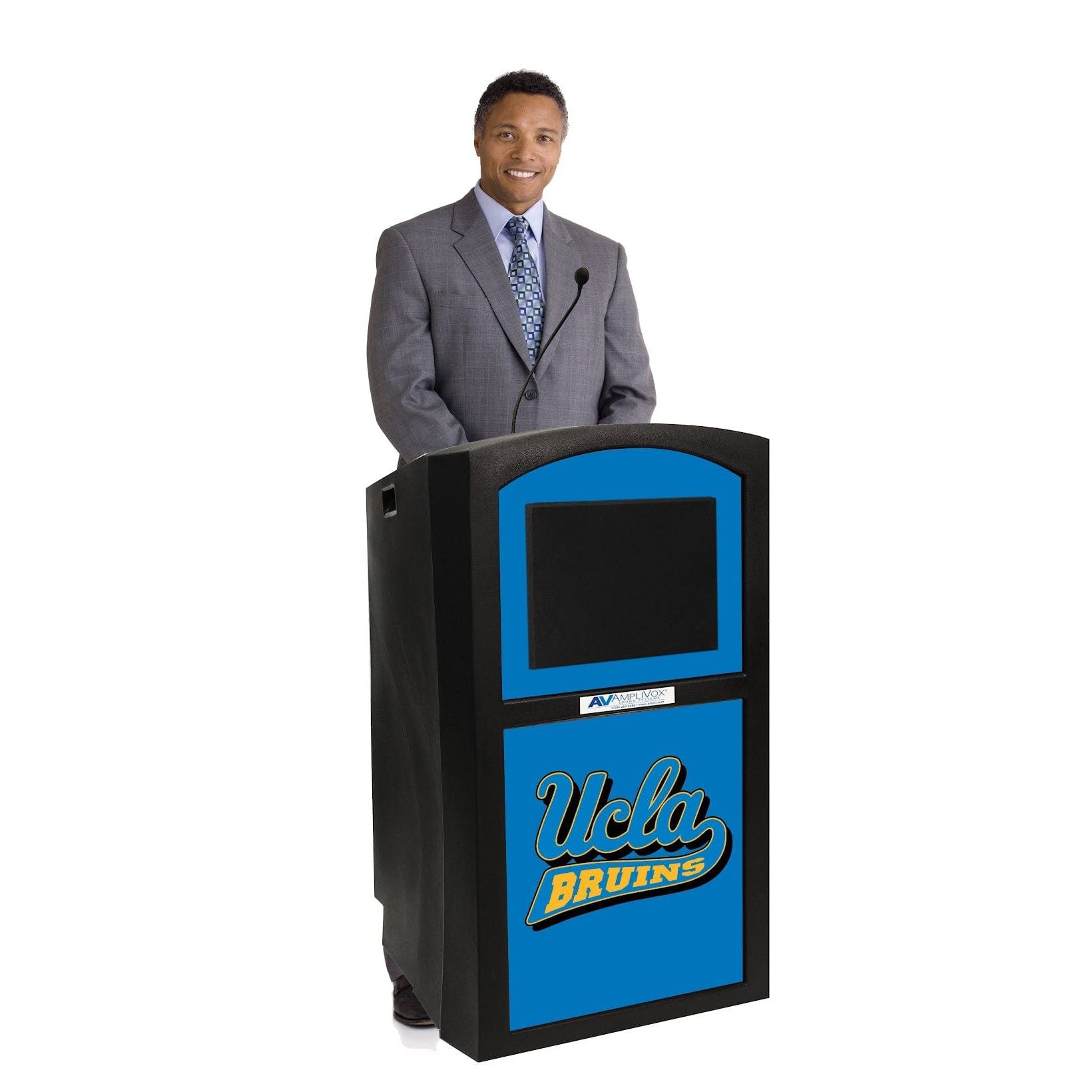 Amplivox Collegiate Lectern With Sound System SW3253
Found a Better Price? Give Us a Call, And We'll Try To Match Any Authorized Dealer!
Have a Question or Want to Order? Call Us: 804-538-4844

Free Shipping On All Products. No Hidden Fees at Checkout
Description

Specifications

Shipping

Price Match
Represent your school, while making sure your voice is heard. 
The Amplivox SW3253 is a lectern that every school will love.  Roll it on stage with its heavy duty industrial casters.  Speak to your crowd clearly with the 21" gooseneck mic, and the two built in speakers.  You can even step back from the mic, as it picks up sound from 20" away.  Use your LED light to see your notes clearly, and a digital time clock to keep up with the time.  
You can even have two speakers at once
The SW3253 has plenty of sound options to select from.  The lectern itself comes with a 21" gooseneck hot mic, and 2 speakers that can reach audiences of up to 2,000 people. That's not all though.
This bad boy also comes with three wireless mic options!  A choice of a handheld mic, a lapel and headset, or a flesh tone over ear microphone.  So while one speaker is talking from the lectern, another can be using one of the wireless mic options.  
Large top surface with plenty of room for computer and speaking notes
Wireless microphone options: Handheld, lapel and headset, or flesh tone single ear microphone
Heavy duty casters for easy mobility from place to place
Sizable shelf to hold other items, such as water bottles, towels etc.
Durable hard shell plastic material that is weatherproof
Built in bluetooth module allows you to connect any device
Digital time clock and LED light so you can see effortlessly
Gooseneck microphone can pick up your voice 20" away, which allows you space to step back from the lectern if needed
Two built in oval speakers
Make the right choice for your school today by clicking the blue "add to cart" button, so we can have it shipped to you ASAP!
Can reach audience of up to 1,500 people and rooms of up to 20,000 square feet
Overall dimensions: 47"H x 27"W x 26"D
Shelf: 11"H x 19"W x 12"D
Weight: 63 pounds