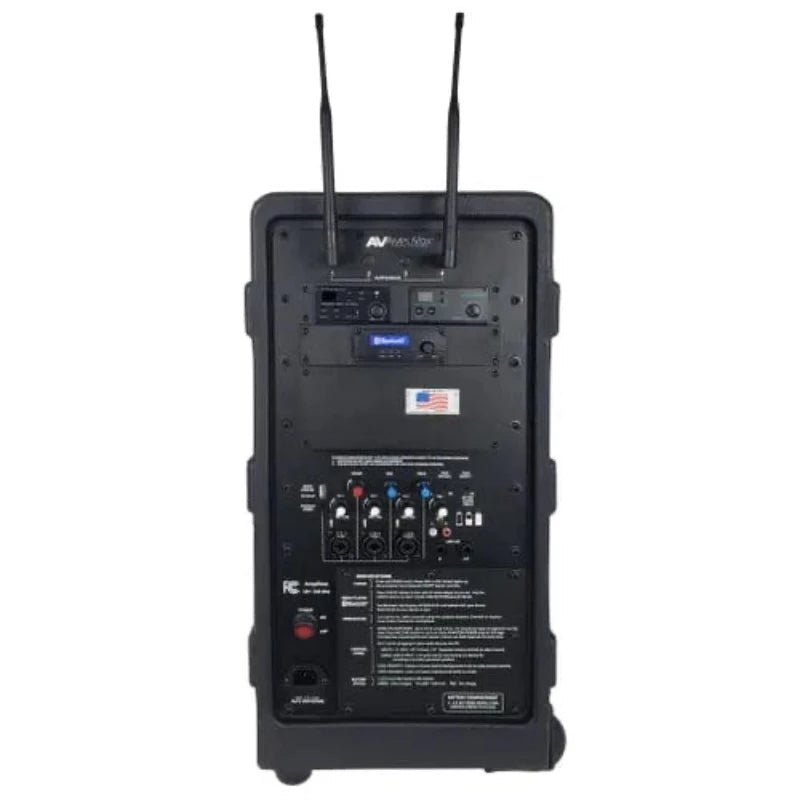 Amplivox Digital Audio Travel Plus PA System SW925
Found a Better Price? Give Us a Call, And We'll Try To Match Any Authorized Dealer!
Have a Question or Want to Order? Call Us: 804-538-4844

Free Shipping On All Products. No Hidden Fees at Checkout
Description

Specifications

Shipping

Price Match
The SW925 Digital Audio Travel Partner Plus is our most complete, all-in-one PA system. The 250 watt portable address system will clearly and powerfully project your voice or music over an audience of up to 5000 people in a room size of up to 25,000 square feet.

Also, built-in wireless audio technology, stream audio from Android and Apple iOS devices.

Use this system indoors or out, and protect the Digital Audio Travel Partner Plus from the elements with its optional custom-fit protective cover made from water-repellant nylon fabric and sound transparent mesh. Rear access panels let you hook up cables, antennas and access controls with ease while keeping your gear dry.

A proven road warrior, specially tooled and molded plastic enclosure for exceptionally durability. It weighs only 35 lbs., travels and sets up easily with tripod mount plus retractable luggage handle and wheels makes it effortless to take with you.

The system is powered either with AC power or with its build-in rechargeable battery that lasts about 6-10 hours (depends on volume) on a single charge. Future ready with four expansion banks add the peace of mind of being able to keep up with the advancement of new technologies.

The Digital Audio Travel Partner Plus comes as a Standard Unit or System Packages.
SW925 Digital Audio Travel Partner Plus
Choice of wireless mic: lapel & headset, flesh tone over-ear, or handheld microphone
Wired XLR Handheld Microphone with 25' cord
250 watts amplifier provides clear, full sound to audiences up to 5000
Built-in digital UHF 16 channel wireless receiver
Two 6.5" high performance, high efficiency woofers and dynamic compression tweeter, SPL 127dB
Standard USB Charging Port - 500mA
Three XLR / 1/4" combo microphone inputs with Phantom Power switch
One stereo input, one 3.5mm input and one 1/4" output
Separate volume, bass and treble controls; one 1/4" input
Change to Voice Priority reduces volume level of background music to make announcement
Voice Enhance to increase crispness and clarity in vocals
Travels and sets up easily with built-in retractable handle, wheels and tripod mount
Rechargeable battery runs for up to 6-10 hours on a single charge
Also includes wired handheld microphone with 25' cord
Sound Coverage: Audience size: up to 5000 people
Room size: up to 25,000 square feet
UHF Wireless Frequency: 584-606 MHz
Frequency Response: 20Hz–20KHz
Rated Power Output: 250 -watt RMS
Max Output: 127 db
Power Supply: 110-220 Auto sensing, 50/60 Hz
Phantom Power Input: Powers Electret condenser mics
Wireless Range: Up to 300 feet
Equalization (tone): Separate bass and treble
Line Output: Buffered, 600 ohm, 1/4in. -phone (pre-fader)
Unbalanced Input: Neutrik XLR / ¼" Hybrid female
Balanced Input: Neutrik XLR / ¼" Hybrid female
Rechargeable Battery: (2) 12 volt rechargeable, 7.2 AH, User accessible and replaceable
Charging Time: Full charge 10 hours
Operating Time: Averages 6–10 hours (depending on volume)
Enclosure Material: Plastic & steel (P.P. Fiber)
Weight: 35 lbs.
Dimensions: 23" H x 11.5" W x 11.5" D
Warranty: 6 year limited warranty