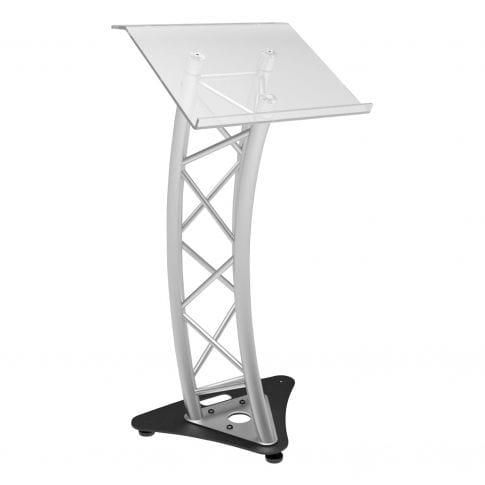 Global Truss Curved Aluminum Podium GT PRO
Found a Better Price? Give Us a Call, And We'll Try To Match Any Authorized Dealer!
Have a Question or Want to Order? Call Us: 804-538-4844

Free Shipping On All Products. No Hidden Fees at Checkout
Description

Specifications

Shipping

Price Match
Purchase you a product that's built to last for years!
Things happen.  I've seen people drop podiums.  If you have presentations outside, weather can be a problem.  Might spill drinks on them.  With the Global Truss Curved Aluminum Podium GT PRO, that's completely okay.  
It's built to withstand just about anything.  If you're a person that speaks at a lot of events, you don't want something you're going to have to replace every couple of months, you know?   
It can fit well in a lot of settings.  Trade shows, schools, businesses.  It's versatile. 
a lightweight podium that's durable. Can't beat it!  Never have any issues carrying this podium stand around.  Give a great speech behind it, then you can lift it easily to put it away. 
Large acrylic reading surface provides space for all of your materials you'll need:  books, notes, computer, etc.  It's also slanted to make reading a little bit easier on the presenter.  
 When you're presenting, you don't want your papers moving and sliding everywhere.  It comes with a book stopper, so that everything stays in place. 
Weighing only 38 pounds, you won't have any issues carrying this bad boy from place to place.  
Brush aluminum finish provides durability.  Truly built to last!
Unique design will keep your audience staring, and engaged in what you're saying
What are you waiting for?  See that blue "Add To Cart" button?  Go and smash that, so you can have a great product for your company!
Overall Height: 48" which is  a suitable height for most presenters
Reading surface: 21.5" x 17.5"
Unit weight: 38 pounds
Basic assembly required