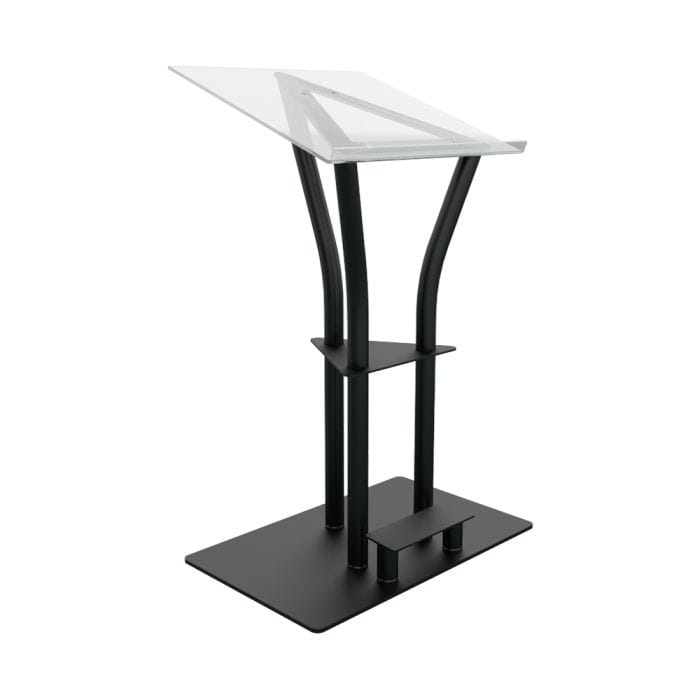 Global Truss DT-Ergo Lectern Aluminum With Acrylic Top
Found a Better Price? Give Us a Call, And We'll Try To Match Any Authorized Dealer!
Have a Question or Want to Order? Call Us: 804-538-4844

Free Shipping On All Products. No Hidden Fees at Checkout
Description

Shipping

Price Match
A design you will love.  
The Global Truss DT-Ergo Lectern is a product that doesn't disappoint.  An aluminum body with an acrylic top creates a lectern that you and your presenters will enjoy.  The reading surface is large, and comes with a book stopper to prevent things from falling off.  
The body is designed where your audience can still see your whole body.  This product weighs 50 pounds, so no worries about lifting it where it needs to go.  The middle of the lectern has a small shelf where items like water bottles can be placed.
There's two finish options to select from.  The aluminum brush finish appears like a knight in shining armor, while the matte black finish looks like the beautiful sky at night. 
Specifications
Overall height: 47.55"
Aluminum brush finish
Large acrylic top to place your notes and other items
small shelf for little items like water bottles
Weight: 50 pounds
Two finish options