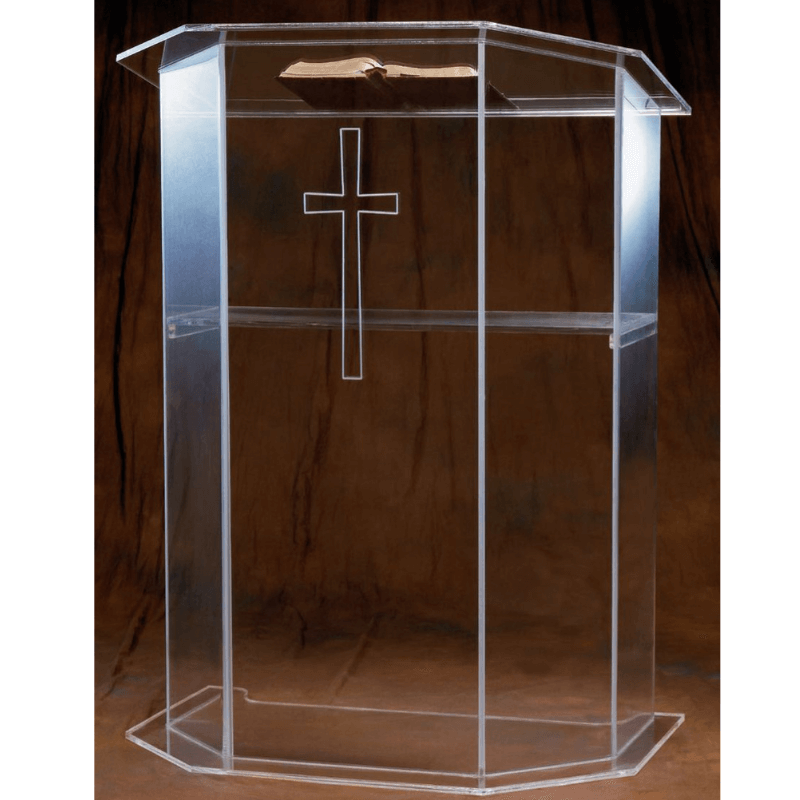 3350 Acrylic Pulpit - Cross And Shelf Options
Found a Better Price? Give Us a Call, And We'll Try To Match Any Authorized Dealer!
Have a Question or Want to Order? Call Us: 804-538-4844

Free Shipping On All Products. No Hidden Fees at Checkout
Description

Shipping

Price Match
Ships Within 8 - 10 Weeks
Add that modern look to your house of worship today.
I'm starting to see more and more churches convert to the acrylic pulpit nowadays.  At first I couldn't figure out why, but now it makes perfect sense.  
Having to lift a heavy pulpit can get tiring, so why not get something lighter for you and your church?  When service is over, you don't have to struggle carrying it to put it away.  These modern pulpits look absolutely beautiful.  The clear acrylic surface with the cross, if you decide to get one.  Be ready for the unlimited compliments your church members are going to give you. 
They're lighter
They look amazing
They allow your congregation to see your whole body!
Why get Sunday fresh just for half your body to be seen?  With this pulpit, there's nothing blocking the audience's view.  Get as fresh as you want!
Customize this bad boy however you would like.  Do you need a shelf for your other items?  We can do that.  How about a cross to really add the cherry on top?  No problem!  Are you one of those pastors that just can't stay away from that wood material?  We can even add a wood top!
Huge work surface for Bible and sermon notes, and a book stopper to keep those items in place while your preaching
Plenty of options to fit your style:  Cross option, shelf option, and wood top option
Thick acrylic material built to last
Specifications
Overall Dimensions: 48"H x 36"W x 24"D
1/2 inch acrylic, 3/4 inch wood top if chosen