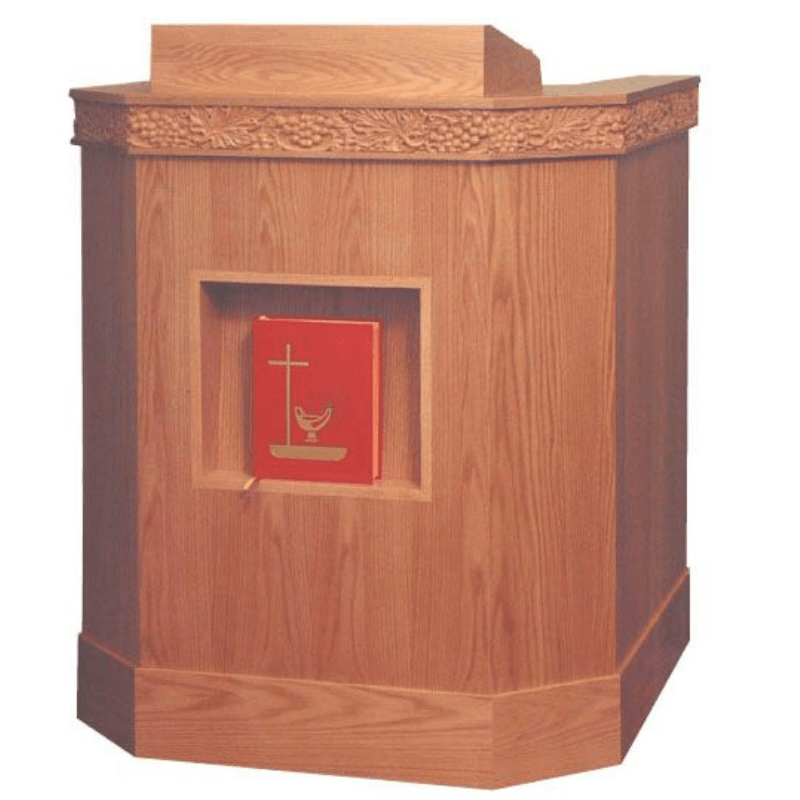 364 Platform Pulpit With Book Opening
Found a Better Price? Give Us a Call, And We'll Try To Match Any Authorized Dealer!
Have a Question or Want to Order? Call Us: 804-538-4844

Free Shipping On All Products. No Hidden Fees at Checkout
Description

Shipping

Price Match
This is a no brainer for any pastor.  It looks great, and has everything you need to deliver a good sermon.  
Let's start with the platform.  When you get to actually step into a pulpit, it feels different.  It gives you that real authority.  With most pulpits, you simply speak from behind them.  But no, this bad boy actually allows you to step into it!
The top surface is elevated, and provides lots of room for your bible.  The surface is angled which makes reading a lot easier.  It also has a book stopper to prevent your bible from sliding down.  
Below the top, there's not one, not two, but three shelves!  You'll never have to complain about space.  Towels, notes, water bottles, whatever you need. There's more than enough space. 
Let's get into the elegant design.  A front book opening isn't something you see everyday, but the 364 has one.  Really allows you to decorate, and be different.  Then, there's the flowery grape designs wrapped around the top.  Your congregation won't be able to take their eyes off of you!
There's more than 7 wood colors to select from, as well.  
Specifications
Overall dimensions: 53"H x 41"W x 41"D
Front book opening is 16"w x 16"D
Platform is 6 1/2" High
Top surface is angled for easier reading
Comes with a book stopper to keep bible and notes in place
Flowery design wrapped around the front
Three shelves for lots of space
Over 7 wood stains to select from
Ships fully assembled