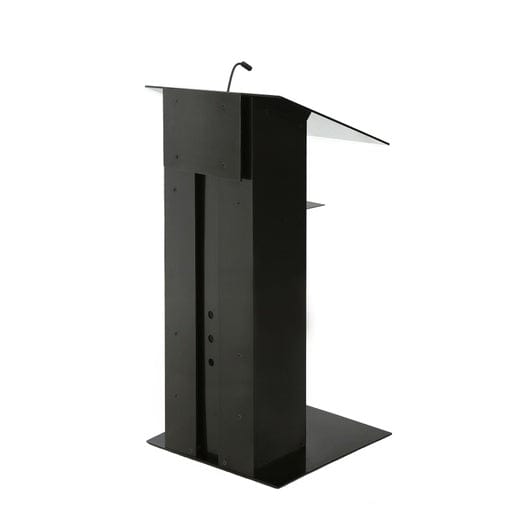 Urbann Portable Black Podium K3
Found a Better Price? Give Us a Call, And We'll Try To Match Any Authorized Dealer!
Have a Question or Want to Order? Call Us: 804-538-4844

Free Shipping On All Products. No Hidden Fees at Checkout
Description

Specifications

Optional Module Add-Ons (Up to 4)

Shipping

Price Match
Ships Within 3 - 5 Business Days
The Urbann Portable Black Podium K3 is arguably one of the most alluring lecterns on the market.  Spectators literally won't be able to take their eyes off of you because of the charcoal, exquisite design of this podium! Become a thief in the night by capturing your audience's attention behind this amazing portable lectern. 
Not only is it beautiful, but it also possesses a ton of functional features.  The reading surface has more than enough space for computers and notes to be placed on. It comes with a book stopper to prevent items from falling down, as well.  You can add up to four optional modules on the reading surface.  Clocks to keep up with time, lamps to see better, microphone holders, charger outlets, whatever fits your needs.  

Right below the reading surface, there's an interior shelf where other items can be placed.  The shelf is perfect for water bottles and extra notes.  This modern black podium is constructed of recyclable aluminum, and one new tree is planted every time one of these bad boys are purchased!  There's the option to add tilt back wheels, for easy mobility.  
The Urbann Portable Black Podium K3 would be a great addition to any setting.  It ships flat in three flat boxes, and basic assembly is required. 
Overall Dimensions: 45"H x 24"W x 20"D
Material: Recycle aluminum to help the environment.  Every time a lectern is purchased, one new tree is planted
Weight: 66 lbs
Wide reading plate for computer and notes to be placed on
Pencil stopper to prevent objects from falling
Interior shelf for water bottles and extra notes
Sturdy aluminum base
Optional Module Add-Ons (Up to 4)