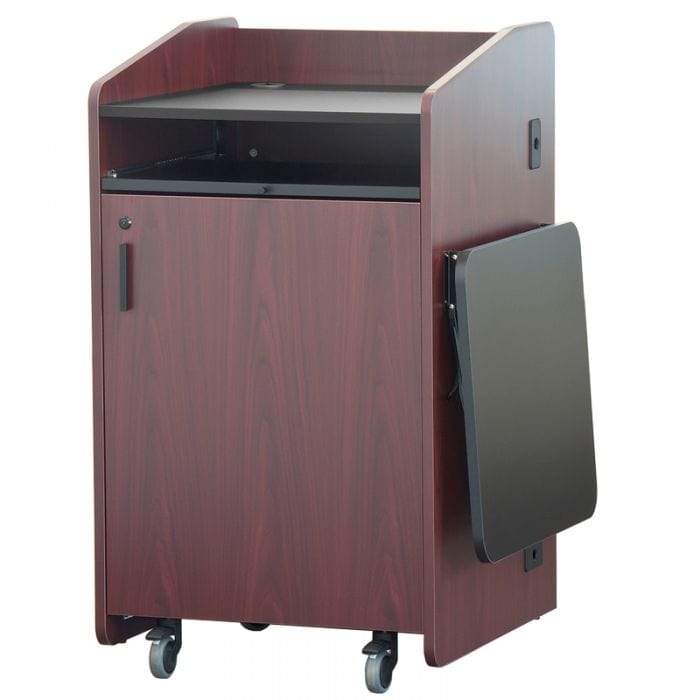 Deluxe Lectern AVFI LE3040
Found a Better Price? Give Us a Call, And We'll Try To Match Any Authorized Dealer!
Have a Question or Want to Order? Call Us: 804-538-4844

Free Shipping On All Products. No Hidden Fees at Checkout
Description

Specifications

Additional Options

Shipping

Price Match
Ships Within 2 - 4 Weeks

The Deluxe Lectern AVFI LE3040 is a product that's slept on.  It's bigger than average, but is still compact at the same time.  It's perfect for schools, and business settings.  It has everything you would need, and some.  
Large top surface with more than enough space for your work materials.  Right below that, is a pullout keyboard trey for your keyboard and mouse.  
Wires and cables can be messy, and somewhat dangerous.  If you're not paying attention, you could fall and hurt yourself.  No worries about that with the LE3040.  Grommets can manage and control wires and cables.  
It comes with a lot of interior storage cabinet for your larger items you might need.  Inside the cabinet, an adjustable shelf is provided to fit it to your personal liking.  The door on it comes with a lock to secure all personal belongings.  
Heavy duty casters with 2 locking for easy movement.  Over 6 finishes to choose from, and you don't have to worry about building anything.  This bad boy ships assembled.  
Large flat top space
Pullout keyboard trey for keyboard and mouse
Grommets for wires and cable management
Interior storage cabinet to store larger items
Adjustable shelf
Flip up shelf for items like cameras and projectors
Locking door to secure belongings
heavy duty casters for mobility
Over 6 finishes to select from
Ships assembled
Overall Dimensions: 44.25"H x 27"W x 25.6"D
Large flat work surface 23.3" W x 24" D
Ships assembled