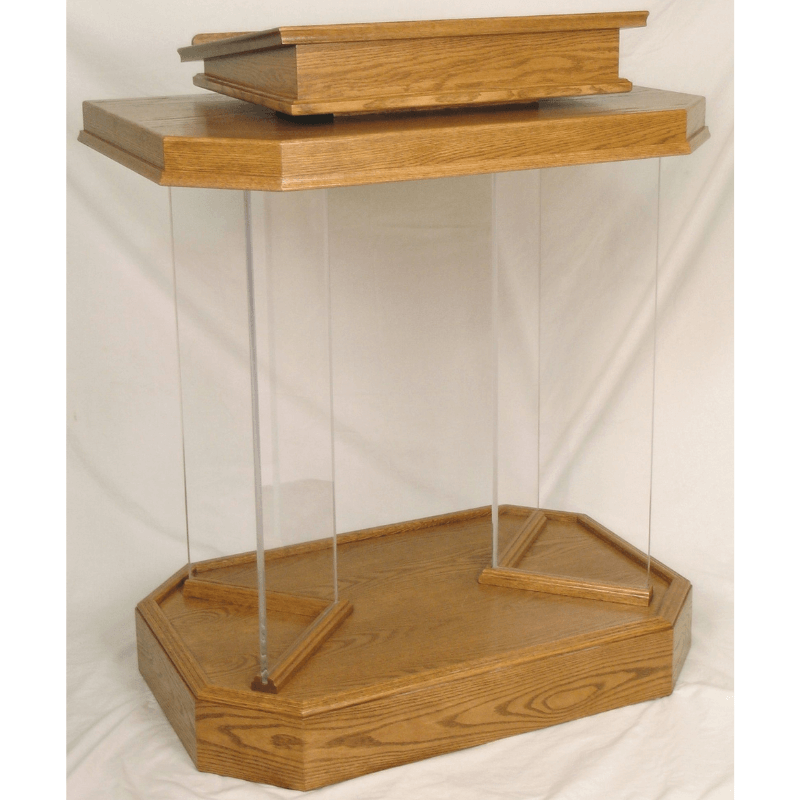 Open Acrylic With Wood Pulpit 3381
Found a Better Price? Give Us a Call, And We'll Try To Match Any Authorized Dealer!
Have a Question or Want to Order? Call Us: 804-538-4844

Free Shipping On All Products. No Hidden Fees at Checkout
Description

Shipping

Price Match
Ships Within 8 - 10 Weeks
Stand out from the rest.
This pulpit is literally hypnotizing.  When you're preaching, the congregation will not be able to take their eyes off you.  The reason is because they've never seen something so unique, and beautiful.  
A wood top and base with an open acrylic body? Unheard of.  Place your bible and sermon notes on the large top surface.  The book stopper that comes with it ensures these objects won't move or slide down.  Rub your hands across that smooth wood finish.  Over 7 to choose from.  Then just look over your congregation, and smile because you know you made the right choice for your church.  
Wood top and base with acrylic body
Large top surface with book stopper to keep items in place
Over 7 wood finishes to select from
Open space in the middle
Wood pulpits are great, but it's like there's a disconnection between you and the audience.  With this product, you don't have that.  The open space with the acrylic parts allow you to be fully seen.  Your congregation will appreciate it.
Specifications
Overall Dimensions: 46"H x 36"W x 24"D
Top surface: 24"W x 20"D
1/2 acrylic pedestal
Ships fully assembled