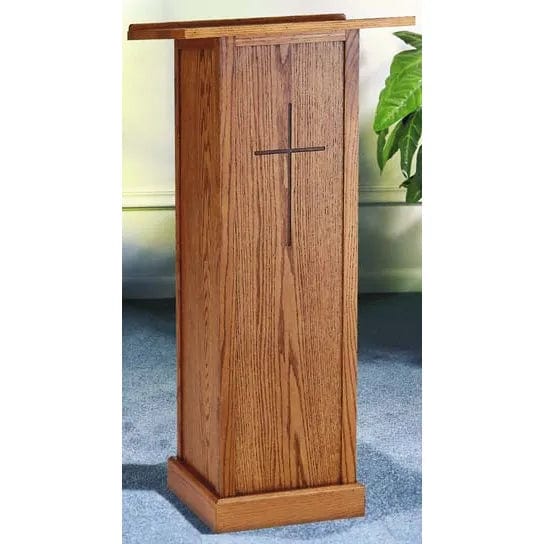 Trinity Wooden Church Podium T-40
Found a Better Price? Give Us a Call, And We'll Try To Match Any Authorized Dealer!
Have a Question or Want to Order? Call Us: 804-538-4844

Free Shipping On All Products. No Hidden Fees at Checkout
Description

Specifications

Shipping

Price Match
Ships Within 2 - 4 Weeks.  Shipping Times Are Subject To Change Occasionally
The Trinity Wooden Church Podium T-40 is perfect for any church.  It's half the price of a pulpit, and you can get it shipped twice as fast!
Weighing only 45 pounds, it's super light and portable.  Imagine after delivering a long sermon, having to carry a 100 pound pulpit to put it away.  Pain right?
 It has all the same features, it's just smaller.   A spacious work surface for your bible and notes to be kept.  Right below is a shelf if there's more space needed. 
It's constructed of solid hardwood, so it's built to last years and years.  You can choose from three wood stains:  light oak, medium oak, and dark oak.  
Lastly, there's the option to add a cross on the front.  Really gives you that church feel. 
Basic assembly is required, but trust me, it is easy!  The Trinity Wooden Church Podium T-40 would be a great purchase for any religious setting. 
Overall Dimensions: 45"H x 20"W x 16"D

Material: Solid hardwood
Weight: 45 lbs
Wide reading surface, to place bible and notes
Large shelf for storage below reading surface
Three wood stain options: light oak, medium oak, and dark oak
Cross option available
Ships two - four weeks from receipt of order
Basic assembly required