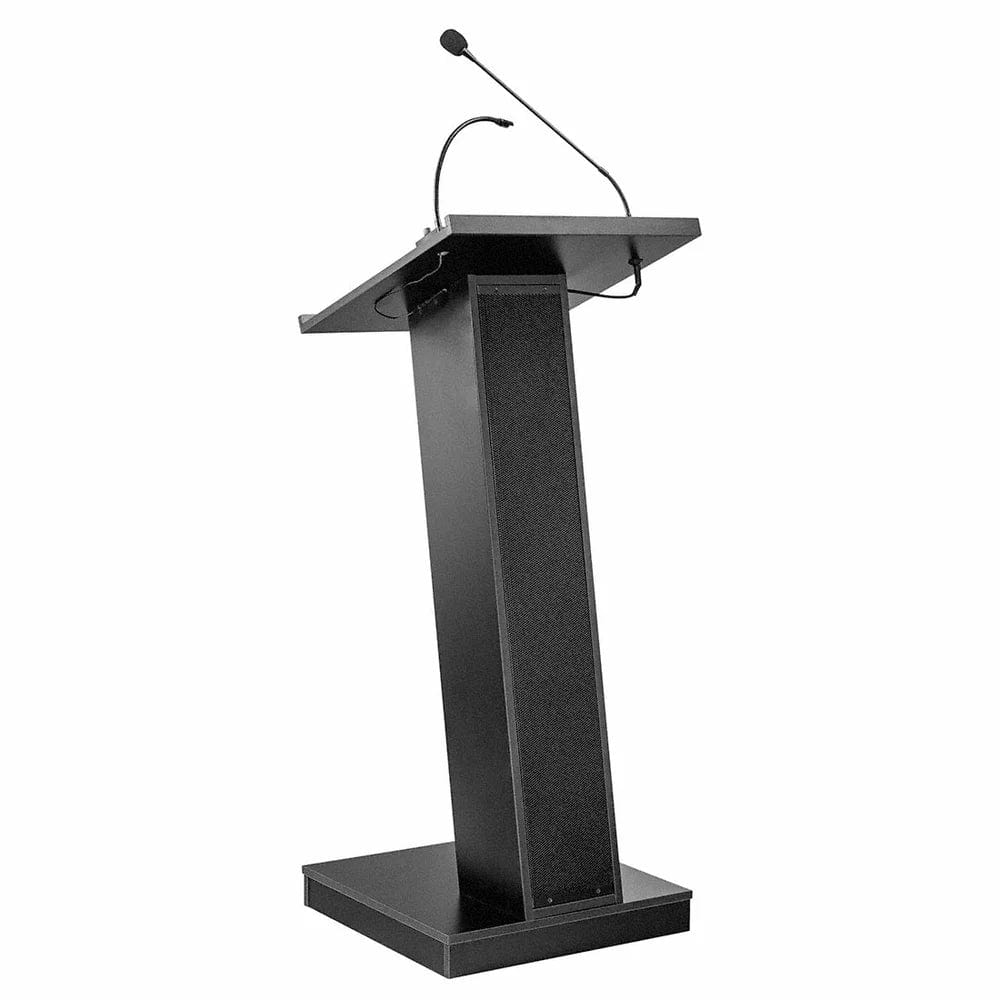 Oklahoma Sound ZED Lectern With Speaker
Found a Better Price? Give Us a Call, And We'll Try To Match Any Authorized Dealer!
Have a Question or Want to Order? Call Us: 804-538-4844

Free Shipping On All Products. No Hidden Fees at Checkout
Description

Specifications

Shipping

Price Match
Ships Within 2 Business Days
The Oklahoma Sound ZED Lectern With Speaker is an elegantly designed, inexpensive sound lectern. Spectators will literally be mesmerized by this portable lectern.  Combine the unique Z shaped design with its exquisite black laminate color, and there you have one of the most alluring podiums on the market. 
This portable lectern is not just a beauty, but is also functional.  The work surface has a myriad of features that will make every speaker's life easier.  First, there's the gooseneck microphone that will permeate the reader's word clearly throughout the room.  Then, there's the hologram lamp to help with the speaker's visibility.  Lastly, the work surface comes equipped with a book stopper to prevent your computer and notes from falling down.  
Below the work work surface, this podium stand has 4 built in 4" 40 watt speakers, which will allow listeners to hear every word sharp and crisp.  The Oklahoma Sound ZED Lectern With Speaker features input jacks for USB, bluetooth, MP3, and line outputs for extension speakers and recording devices.  The lectern has a scratch resistant surface, and is super durable.  This bad boy is built to last. It's a lightweight portable podium, but never worry about picking it up. It comes equipped with four rolling casters for easy mobility.  A lectern on wheels always makes life easier.  Where else can you find a portable lectern with sound system that looks as good as the ZED lectern? 
Overall Dimensions: 46.5"H x 19.5"W x 19.5"D
Material: High pressure thermal fused laminate
Weight: 47.6 lbs
Spacious work surface to prevent computers and notes from being crammed together
Digital timepiece included to help speaker keep track of time on stage
Durable scratch resistant surface to with stand falls and bumps
Hologram lamp to help speaker see words better
Book stopper to prevent items on work surface from falling down
 4 built in 4" 40 watt speakers allows listeners to hear clearly
Multimedia features: input jack for USB, bluetooth, MP3, and line outputs for extension speakers and recording devices
Exquisite podium with microphone and speaker
Unique Z shaped design will have spectators mesmerized
Casters at the bottom for easy mobility
Ships within two business days
10 year warranty