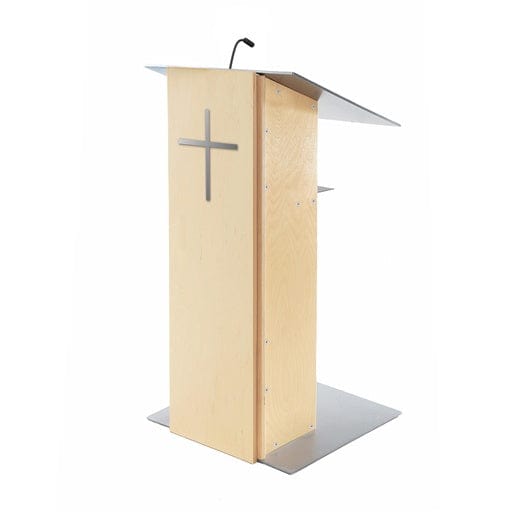 Urbann Church Lectern K2
Found a Better Price? Give Us a Call, And We'll Try To Match Any Authorized Dealer!
Have a Question or Want to Order? Call Us: 804-538-4844

Free Shipping On All Products. No Hidden Fees at Checkout
Description

Specifications

Optional Module Add-Ons (Up to 4)

Shipping

Price Match
Ships Within 3 - 5 Business Days
The Urbann Church Lectern K2 would be a great option for any church.  It's exquisite, and has features that any pastor would be grateful for.  
It has a large work surface, where bibles and notes can be placed.  Who would want everything crammed together while preaching? I definitely wouldn't.  The work surface comes with a pencil stopper to prevent items from falling down.  If the work surface isn't enough, right below is an interior shelf for things, such as water bottles.  
Four optional modules lets you choose from a myriad of options.  Grab a microphone for clear sound, or a small clock to keep up with time, or even a church lectern lamp to see words better.  There's plenty of options to choose from.  
Constructed of a wood facade, with an aluminum base and top, this church lectern will have listener's eyes glued to you.  Not to mention the beautiful stainless steel cross.  It can be carried around, but I would advise the option to add tilt back wheels.
It's is made of recyclable aluminum, and two new trees are planted every time one is purchased.  Save the environment today, and secure yours!
The Urbann Church Lectern K2 ships in 3 - 5 business days, and assembly is required.  
Overall Dimensions: 45"H x 24"W x 20"D
Material:  Wood facade, with aluminum base and top
Weight: 68 lbs
Spacious work surface to place bible and notes
Stainless steel cross which will keep congregation mesmerized
Environment friendly, Two new trees planted every time a lectern is purchased
Four optional modules where accessory items can be placed.  
Interior shelf for notes / water
Pencil stopper to prevent things from falling
Assembly required
Optional Module Add-Ons (Up to 4)