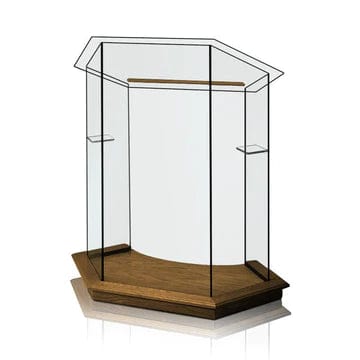 Foundation Glass Pulpit NC10
Found a Better Price? Give Us a Call, And We'll Try To Match Any Authorized Dealer!
Have a Question or Want to Order? Call Us: 804-538-4844

Free Shipping On All Products. No Hidden Fees at Checkout
Description 

Specifications

Shipping

Price Match
Ships Within 6 - 8 Weeks
Imagine wearing your best suit, and your church members can't even see it because of  a big old wood pulpit is blocking their view.  No worries with the Foundation Glass Pulpit NC10.  They can see right through like a X-ray.  
Okay forreal, there's more to it than your church members seeing how fresh you look.   
When you're preaching, I don't think you want to pause your sermon to have to go grab items you need.  With this bad boy, you won't have to.  It has more than enough space for you to place all your items.   A large work surface, two corner shelves, with a huge opening in the middle allows you to keep everything in one place.  Bibles, notes, water bottles, towels, you name it.  
Another plus is that you can customize it literally however you want.  
You want your church name and logo on the front? No problem.  
What color wood stain would you like?  Literally more than 7 options to choose from. 
There's even the option to have it tinted if you wanted.  Super fancy.
The Foundation Glass Pulpit NC10 would be a great investment for any church!
It ships fully assembled, and can arrive at your steps in 10 - 12 weeks, sometimes even less than that.  
Overall Dimensions: 46"H x 41"W x 24.5"D
Material: 3/8" architectural glass construction
Wide work surface for bibles, notes, computers etc
Two corner shelves for small items such as water bottles and towels
Oak book rest to prevent items on work surface from sliding
Custom etched glass front panel to really personalize your brand
Oak base
Wood trim options:  Over seven wood colors to choose from
Ships fully assembled