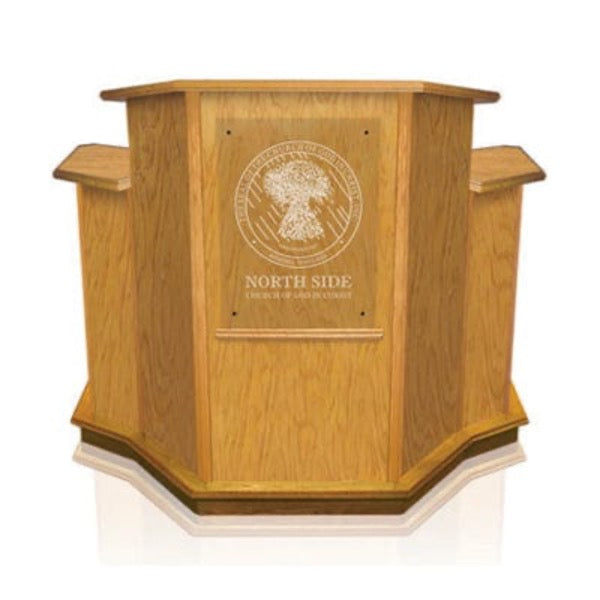 Prestige Wood Winged Pulpit With Logo NC1W
Found a Better Price? Give Us a Call, And We'll Try To Match Any Authorized Dealer!
Have a Question or Want to Order? Call Us: 804-538-4844

Free Shipping On All Products. No Hidden Fees at Checkout
Description

Specifications

Shipping

Price Match
Description
Ships Within 4 - 6 Weeks
"Pastor where did you get this pulpit from?"
That's the third person to ask the question today, and you can't do nothing but smile.    
Think about what it would be like to preach behind this masterpiece... You look over the crowd, and you see everybody's smiling faces.  You place your bible on the top surface.  "This could fit the biggest book in America", you think to yourself.  You fit your bible nicely against the book stopper.  No more having to worry about your bibles and notes moving while preaching.  
Then you start to rub your hands  across that smooth, wood surface.  It feels as smooth as a baby's bottom.  You look down.  Not one, not two, but literally three shelves.  You'll never run out of space like you did with your old small church podium.  
You put two flowers on the wings for decoration, and they look amazing.  
"Thank you Jesus", you say in your head.  You know you've selected the right pulpit for your church.  
Represent your church home with a large glass panel with your logo on it!
This really allows for you to personalize, and really represent!  Don't nothing feel better than a product with your name placed on it.  
Large top surface with hexagonal shape so that you have plenty of space for your sermon notes and bible
Book stopper to keep all reading material in place
Three large shelves to place items 
Wings where you can also place larger things
Oak material with 8 wood stains to select from
No need to think too much longer.  Scroll up,  and click the blue "add to cart button", so you can get your pulpit in your church ASAP!
Top surface: 41" x 24.5"
Height:  46" Front and 40" Back
Ships fully assembled